E.I.E. E.P.1.2
Euphony In Electronics / One Point Two (Remixes)
| Proprio | Alphabets Heaven | Scaramanga Silk | Electric Ape | Atomico | Inwards |
Euphony In Electronics returns for a second phase with the original crew...
One Point Two sees the Brighton/London sextet of producers regather for a remix rotation, re-shaping a track apiece into their own vision, blurring analogue and digital channels, and producing 6 re-imagined versions that glimpse the creative flow of each.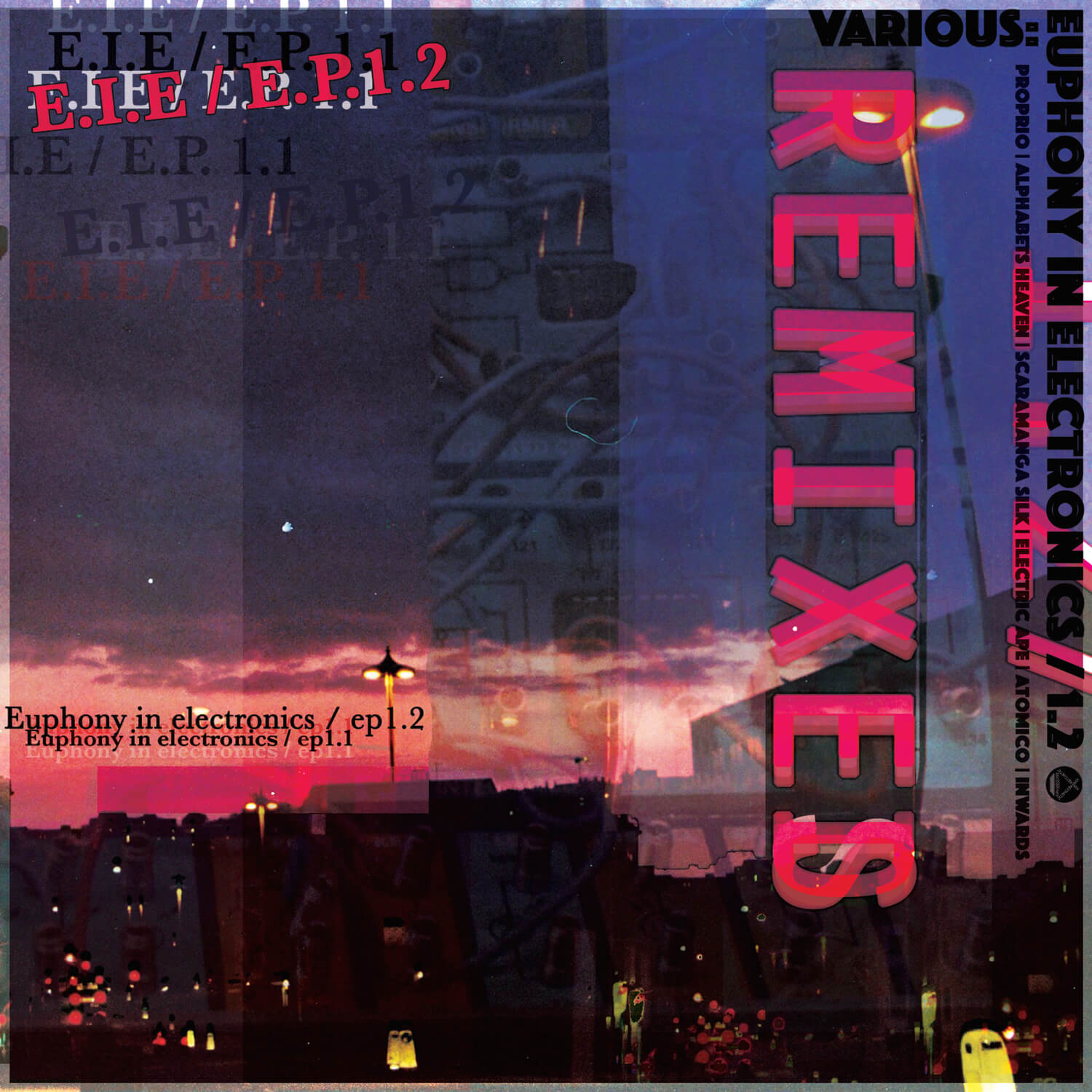 1. Alphabets Heaven - Amin (Proprio's High Humidity Remix)
Proprio brings a stuttering post-monsoon of a remix to Amin, loaded with pressure-dropping atmospherics and
glistening synths, saturating the jewel sharp original, it fies with a mutant 2-step shuffe and transports a snapping
outernational swing.
---
2. Inwards - Limbic System (Alphabets Heaven Remix)
The heaving analogue synth intimacy of Limbic System is transmitted into an unabashed foor banger,
Alphabets Heaven excites with a latent garage bounce and ratcheting percussion, its warping propeller bassline
and massive refrains are a call to move.
---
3. Electric Ape - Theme from The Infernal Machine
(Scaramanga Silk's Remix from the Miniaturisation Laboratory)
The doom-laden Infernal Machine is hacked and rewired by Silk's wizardry; spellbound and tamed, laced with
dazzling arpegiations, semiconducting and re-processing into a bright, beat-less high defnition synthesised display.
---
4. Scaramanga Silk - Velvet Raindrops (Electric Ape's Dog Ate My Remix)
Glancing back to the halcyon days, Electric Ape builds an epic structure around that bassline, circling chimes set
the rhythm for the frantic percussive techno-riffng beatwork and an impending thump that cuts through the digisymphonic
strings.
---
5. Proprio - Columbo (Atomico Remix)
Striking Columbo with a disorientating blow, Atomico's semi-conscious version distresses the groove, veering
back and forth, that heavy rhythm yields under wrought metallic distortion, sinewy beats and a sweetly rousing
guitar refrain.
---
6. Atomico - Forever (Inwards' Forever Far Removed Remix) 02:40
As the original is obscured and suppressed, Inwards builds an intense horizon-dominating haze; swaying,
hypnotising, lulling... until the ambient drama is seared & paced with low-end feeding analogue bass commands.